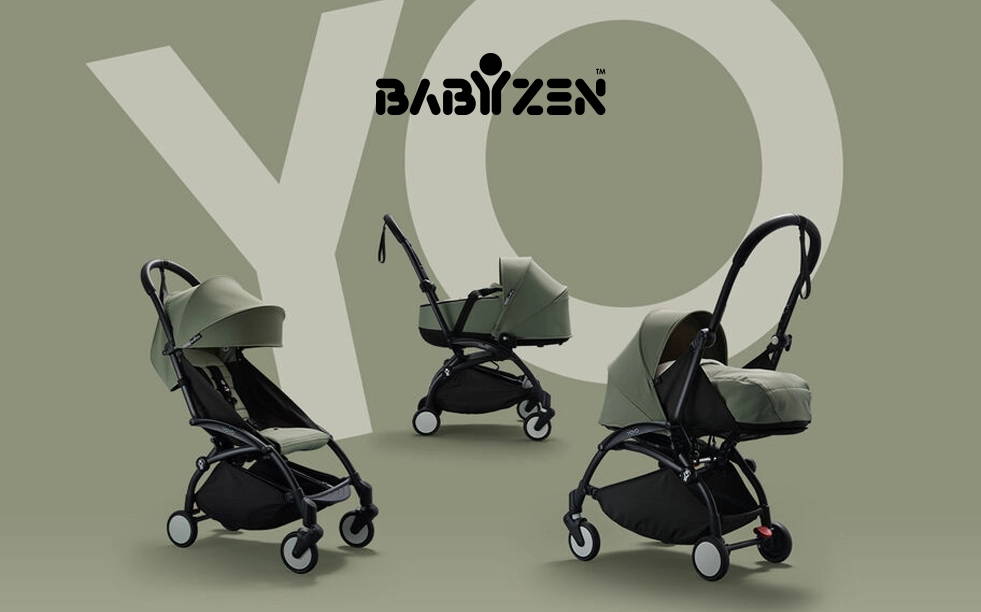 Designed for easy and travel, the Babyzen Yoyo Stroller has been a staple for jet-setting families. Easy to customize with an assortment of chic and cool colors, you can make the Yoyo+ Stroller your own!
Meet the new Babyzen YOYO ² Connect Double Stroller

BABYZEN MUST-HAVE ACCESSORIES
Designed for easy use and travel, BABYZEN YOYO strollers have been a staple for jet-setting families for years. Not only are they easy to customize with an assortment of chic and modern colors, but you can also quickly fold and unfold these strollers with no fuss or frustration.
If you're searching for a new stroller to replace an older one or as a gift for an expecting loved one, BABYZEN strollers are a major hit for a reason. As their latest stroller model, the YOYO 2 boasts an array of must-have features and accessories for parents seeking a compact yet fully functional stroller that will last for years to come.
Purchase the car seat adapter to snap in your infant car seat and create an instant travel system. Use the Newborn Set or Bassinet feature to use for your baby at birth as a newborn stroller.
The 6+ Colorpack used with the frame makes the YOYO2 a perfect toddler stroller for families on the go. Each option is airline cabin approved and can also easily fit in car trunks and small spaces like entryway closets.
When folded, you may be shocked to see just how small these strollers appear!
Designed in France and built to last, the Babyzen YOYO is unparalleled in quality. You won't be disappointed.
Babyzen Yoyo Stroller: The Ultimate Guide To Buying, Using And Caring For It
BABYZEN YOYO2: A stroller designed to last
Babyzen Yoyo stroller is a popular choice for parents because it is designed to be lightweight and easy to fold, making it perfect for travel. It is also air cabin approved, meaning that you can take it on the plane with you. Additionally, the Yoyo+ can support up to 18kg, making it suitable for small children of any size.
Babyzen Yoyo strollers are easy to fold and unfold. They come in a variety of colors, making it easy to find the perfect one for your family. They are also good for new parents or as a gift. Babyzen strollers are perfect for toddlers, who need a lot of space to move around. They are also great for families on the go.
Features of Babyzen Yoyo Stroller: Why Is the Babyzen Yoyo So Popular?
Babyzen Yoyo Stroller is a popular choice for parents because of its many features.
It can be used from birth to six months with the included Babyzen Yoyo+ 0+ seat, and then it can be switched to a road-facing seat for children aged six months and up. Additionally, the stroller is compact in size and fits easily into small cars. It also meets IATA guidelines for stroller safety and complies with all airline regulations.
Babyzen Yoyo Stroller is a popular choice for parents because it is sleek, lightweight, and easy to fold. It also comes with a shoulder strap, making it easy to carry. Plus, the eye-catching accessories like the carrying bag, parasol and footmuffs make this stroller stand out from the rest.
Car Seat Compatibility
Babyzen Yoyo stroller is a lightweight and compact stroller that can be easily folded and transported. It is also compatible with a variety of car seats, making it easy to use for travel. The Group 0 car seat fits from birth to 12 months and can be attached easily to the stroller frame.
There are a few Group 0 car seats that are compatible with Babyzen: Maxi-Cosi and others. Some of these compatible car seats include the Cybex Aton Q & Cloud Q, as well as the Nuna Pipa.
Babyzen Yoyo Travel Accessories
There are a variety of different Babyzen Yoyo travel accessories that can make using and caring for the stroller easier. These accessories include bug nets, car seat adapters, cup holders, and more. Some of these accessories are in stock on the Babyzen Yoyo website, while others are available for pre-order. Additionally, there are several miscellaneous add-ons available for purchase, such as parasols and rain canopies.
FootMuff
Footmuff is a great accessory to keep your child warm during the winter. It is fleece lined, has anti-dirt protection, and can be machine washed.
Insect Shield
Babyzen Yoyo+ 6+ Insect Shield is a stroller that comes with a built-in insect shield to protect your child from mosquitoes, bugs, and other flying pests. It's perfect for parents who live in areas with high bug populations or who are traveling to areas with known mosquito-borne illnesses.
Rain Cover
There are two types of rain covers- newborn and 6 months plus. The newborn rain cover is smaller and fits snugly around the baby carrier, while the 6 months plus rain cover is larger and can fit both baby carriers and strollers. This rain cover is made from clear polyurethane construction and has a dual layered front mesh that allows light in when half open and black out when both are closed. It's important to have a rain cover because it will keep your child dry during wet weather conditions.
Babyzen Yoyo Rain Cover is an award-winner also for its sunshade coverage for strollers. It creates shade from the sun and blocks up to 97.5% of UV, making it perfect for protecting babies and toddlers. In addition, the rain cover blocks wind, chill, and light rain, making it a great option for all sorts of weather conditions.
Cup Holder
The cup holder is a great accessory that works well and clips onto the side of the Yoyo stroller handle. It's very handy to have when you're out and about with your little one.
Parasol
The Parasol is a sunshade that attaches easily to the frame of a stroller and the car seat adaptor. It has UPF 50+ rated sun protection to keep your child safe in the sun.
Leg Rest
Babyzen Yoyo - Stroller Leg Rest is an add-on for the 6+ pack that can make life a little easier for both you and your child. This footrest easily folds up without needing to remove it, so you can quickly fold up the stroller when you need to.
Pros & Cons of Babyzen Yoyo Stroller
Babyzen Yoyo Stroller is a popular travel system that has both pros and cons. Some advantages include the fact that it is lightweight and versatile, you can use it in two different ways, and it folds up easily. Babyzen Yoyo+ Newborn pack converts your stroller into a parent-facing newborn pushchair with a pop-up canopy, harness, foot cover and head support.
However, some users have complained about how the stroller isn't suitable for rough terrain or areas with a lot of wind or rain.
Maneuverability
The Yoyo stroller is a four-wheel with suspension system, making it easy to maneuver. The brake system is responsive even months later, meaning you can easily stop the stroller on different surfaces. Cobblestone, Stoney beaches, and curbsides are all fine with this stroller - perfect for any terrain!
Weight
Babyzen Yoyo2 is one of the lightest strollers on the market. It has a reinforced frame, meaning it can accommodate up to 48 pounds (22 kg). This makes it perfect for travel or for parents with multiple children.
Handlebar
Handlebar on the stroller is fixed and doesn't extend, however it is sturdier because of that. It might be tough for tall parents to use this stroller, but it has other benefits like a comfortable seat and a large storage basket.
Folding
Babyzen Yoyo2 is incredibly easy to fold- in fact, it's been named "the easiest stroller to fold". The folding mechanism is much simpler than that of the Bugaboo Ant, and the only step that requires two hands is folding the canopy. Even if the baby is still sitting in the stroller, you can easily do this one-handed. Packing up has never been so easy!
Seat Compartment
The seat on the Yoyo is well padded, which can be beneficial for the baby's safety. The seat does not have reversible side protection as Babyzen lacks this feature; however, it is angled, which can make the child slouch.
Seat Recline
The seat on the stroller is adjustable to recline, which is a plus. However, it could be improved by having a handle or button to make it easier to adjust. You just have to hold the buckle and push the backrest to the front - making it very easy to use.
Harness System
Babyzen Yoyo is a great stroller for parents on the go because it is lightweight and easy to fold. It also has a five-point seat belt that is strong enough to secure your little one. In addition, the straps can be easily released from the harness with just two fingers and one button. You can also remove the top strap and use it as a three-point harness instead of a five-point harness.
Canopy
The canopy on Babyzen Yoyo+ is good enough to protect your baby from the sun and other elements. It's made of a sturdy, opaque fabric that should keep most things out. Additionally, it has a peek-a-boo window so you can keep an eye on your child without having to stop and open the canopy. However, this window is made of transparent soft plastic which means it can't be closed or opened. This means you can't keep the window closed when it rains or snowing.
Storage Spaces
The storage basket on this stroller is perfect for holding up to 15 pounds of various items. You can easily put several items in the basket without worrying about carrying enough for your baby's needs. The basket is also easy to access from the front of the stroller, so you don't have to stop and reach behind you. Plus, you can safely hang your handbag on the handlebar.
Verdict: How does the Babyzen Yoyo compare to other travel strollers?
Babyzen Yoyo is a travel stroller that has been designed with the needs of the modern-day parent in mind. The design for this stroller was inspired by a traditional yoyo and the idea of a travel companion.
Babyzen Yoyo is a great travel stroller for those who want a lightweight and compact option. It is also durable and flexible, perfect for everyday use as well as travel. Additionally, it has a low price point and grows with your child from newborn to toddler.