With a baby carrier from BABYBJÖRN, you can hold your baby close while at the same time keeping your hands free for other things! We have baby carriers for all your different needs – from simple models better suited for newborns to more ergonomic baby carriers with a waist belt so you can carry for a long time. All baby carriers from BABYBJÖRN are made from toxin-free, child-friendly materials and are soft against your child's skin.
Ergonomic baby bouncers that rock naturally without batteries! Your baby can rest and play safely and comfortably in the baby bouncer, while you get a chance to take a shower, unload the dishwasher or simply take five. Our baby bouncers are suitable for newborns (minimum weight 8 lbs/3.5 kg) and can be used up to the age of two.
The travel crib is not only easy to set up and fold down but it is also portable. It's a comfy, snug place for your baby to sleep well and enjoy sweet dreams.
Discover our kitchen products in cheerful colors that make mealtimes more fun for your child! Your baby sits safely and comfortably in our high chair, while our booster seat helps toddlers sit properly at the table. Our plates, bibs and cups are cleverly designed, sturdy and durable – perfect when your little one is learning to eat independently!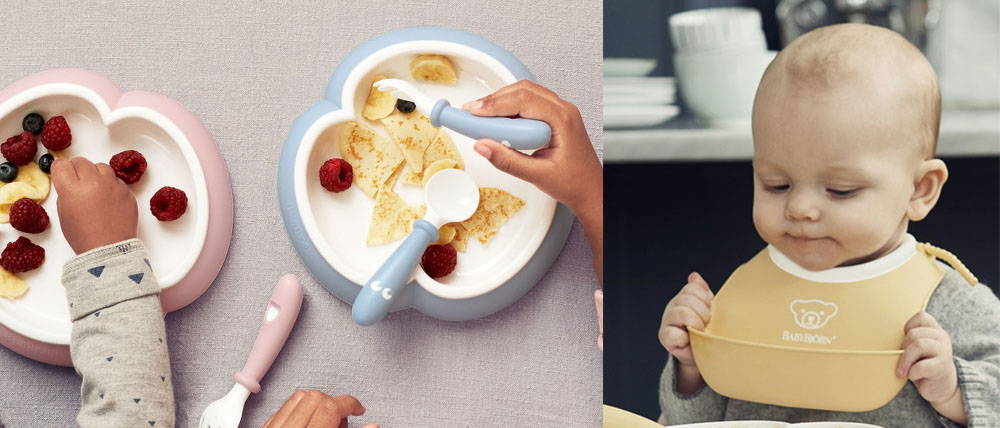 As a parent, you want to give your child the very best in all areas of life. With Baby Bjorn products, rest assured you are making the right choice for the safety and comfort of your baby from the very start. As a company, Baby Bjorn has a simple mission to develop the best designs offering exceptional function and safety for little ones from newborn to the age of three. These products are made with a focus on your child's growth with the product over time to cut down on needless replacements. Operating as a family-owned company, this trusted name cares about your little one as if they were their own and it shows in each design they craft.
What are a few things setting Baby Bjorn products apart from the crowd? For starters, their designs are made with soft angles and free from unnecessary details for options well suited to the needs of babies and toddlers. The designs are also made with a classic simplicity without losing any of the beloved modernity of their signature sense of style. These products from Baby Bjorn offer appearance and functions the whole family will love from the parents to the little ones.
We offer a diverse selection of some of the best options this heralded brand has introduced over the years. Aiming to take a total approach to child products, this inventory reflects their diversity. Whether you are looking for their signature baby carriers for the cuddly carrying of your little bundle of joy, one of their comfy bouncers for the little wiggle worm, or one of their elegant yet functional cribs and cradles, find it all right here with ease. Each option here is a high-quality solution made with the unique needs of both baby and parent in mind. Order today and give your child the very best in every way.
Please contact us with any questions while shopping. Our friendly staff is always happy to assist you further.