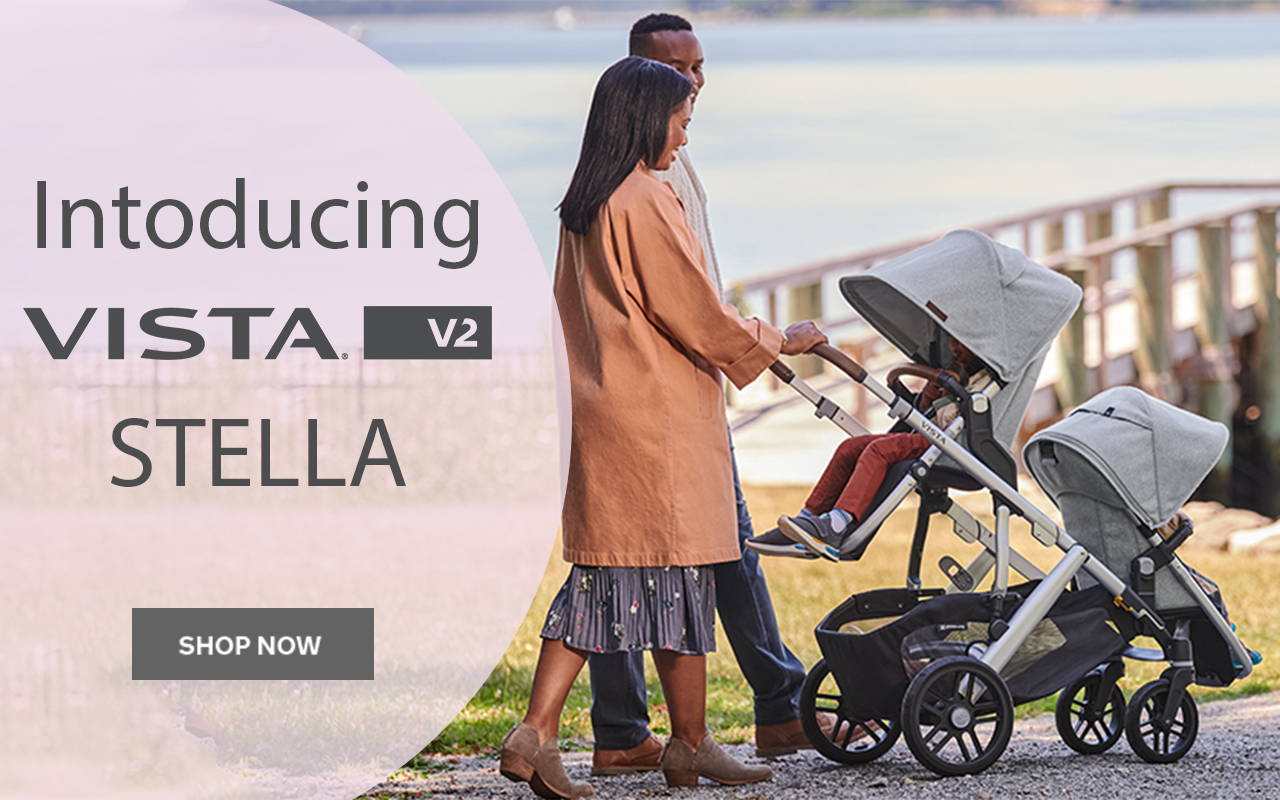 TRAVEL MADE EASY WITH UPPABABY
LIGHTWEIGHT TRAVEL WITH STYLE
UPPAbaby is an American company that is on a mission to create high-quality products for new parents that'll not only fit their needs but is stylish, innovative, and affordable. Find parents with UPPAbaby at amusement parks, park playgrounds, or just around your neighborhood. If it's family-friendly, you'll see an UPPAbaby stroller every time! A chosen stroller among celebrities and real moms, UPPAbaby was established in 2006 and continues to raise and surpass the standards of JPMA (Juvenile Product Manufacturing Association) and CPSC (Consumer Product Safety Commission).
UPPAbaby currently offers six different strollers to cater to every lifestyle. Their most popular and modular stroller is called, Vista. The Vista stroller includes a baby bassinet and can be converted to a double stroller as your family grows, making it the perfect starter stroller for parents that expect to have more than one kid. If you're only planning to have one child, we would recommend the UPPAbaby Cruz stroller. At a lower price point, Cruz does not include a bassinet but is travel system ready and has similar features as the Vista. For lightweight options, look no further than UPPAbaby's Minu, G-Lite, G-Lux, and G-Link.
Making products for parents on the move, not only do they have their stellar stroller lineup, they also got you covered inside the car. UPPAbaby has 3 different car seats for every stage of your baby's journey to a big kid! Starting with the Mesa Infant Car Seat, Mesa is designed to be used from baby's first ride home from the hospital until they're 35lbs (around 12 months). The Mesa car seat pairs perfectly with UPPAbaby's Vista, Cruz, and Minu strollers. As they outgrow their infant car seat, UPPAbaby has released their new forward and rear facing Convertible Car Seat called Knox . When your child is ready to convert to a Booster Car Seat, UPPAbaby's ATLA High Back Booster is the final stage of their car seat journey.
Accessories are available to pair with your UPPAbaby products like their Piggyback skateboard attachment for bigger kids to spare mattress covers for baby's bassinet. You can find all UPPAbaby products on our website.
Uppababy Frequently Asked Questions
Q. Are UPPAbaby products JPMA & ASTM compliant?
A. UPPAbaby products are certified by the JPMA (Juvenile Products Manufacturing Association). All strollers and car seats meet and exceed ASTM & JPMA compliance standards and governmental safety and testing standards. State and federal safety standards require all car seats to meet stringent flame retardancy standards. Many manufacturers meet these requirements by treating their fabrics with toxic brominated and chlorinated chemicals, like PBBs and PBDEs that can be harmful to children. All UPPAbaby products meet all applicable flame retardancy standards without these potentially harmful chemicals.
Q. What new features does the VISTA V2 include?
A. The VISTA V2 includes the following new features:
Extendable, zip out canopy
No-rethread harness
Toddler Seat with a higher seat back and deeper footrest
Improved all-wheel suspension
Additional storage pocket in basket
Front wheel locks with visual indicators
Q. What is the difference between the CRUZ and VISTA?
A. The CRUZ is the optimal choice for families looking for a single, full-size stroller in a streamlined design.
The VISTA is designed to grow with families and can accommodate up to three children. The VISTA includes a bassinet offering a lay flat solution that can be used from birth.
Q. Can I add Uppababy strollers and car seats to the Kidsland Baby Registry?
A. Yes, absolutely. Create your full baby registry with Uppababy strollers and car seats here.