Double is no trouble with the Agio Z4 stroller. If you're looking for a quality stroller that can grow with your family but not looking to spend as much as an Uppababy Vista, look no further! Agio Z4 is a high quality, Italian-made stroller by Peg Perego that can accommodate one or TWO children but leaves the bulk and the confusing parts behind. That's right, the Z4 stroller is an affordable single stroller that converts to a double stroller but is lightweight and simple. Sigh of relief.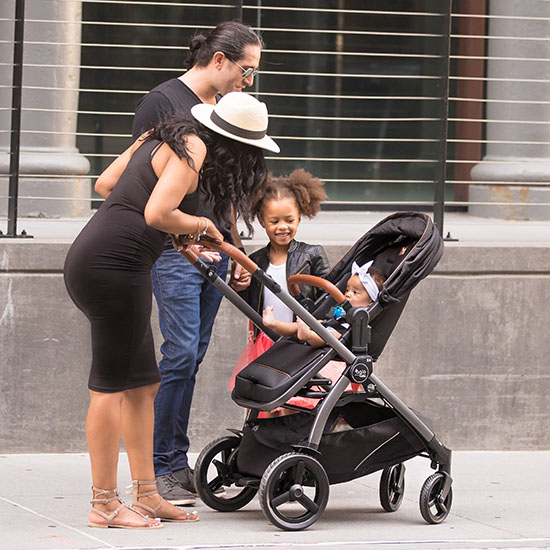 When shopping for strollers, one thing we ask soon-to-be parents is whether or not they see themselves having another baby in their future. There are so many different strollers out today that it can get overwhelming quick! One thing we want to make sure is that parents are getting the most out of their stroller and that includes whether or not a second child is in their future.
Agio Z4 is a single stroller that can be turned into a double stroller and has dozens of different configurations available to accommodate your needs. Agio Z4 stroller is suitable from birth up to 50 lbs when used with their baby stage pad (sold separately), Agio Z4 bassinet (sold separately), or make it a travel system with their Agio Primo Viaggio 4-35 Nido Infant Car Seat (sold separately). Get $100 off the Agio travel system today!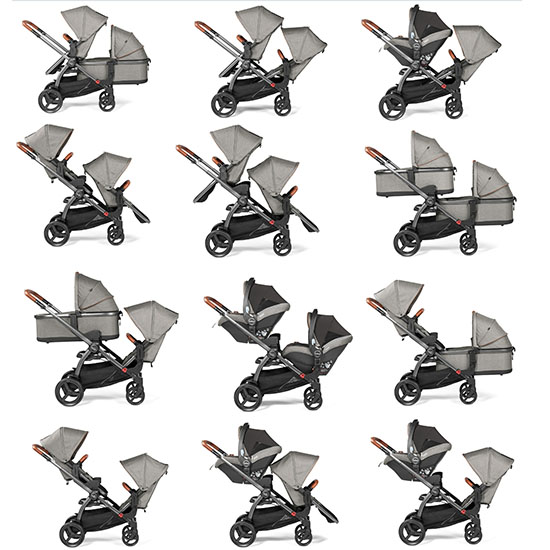 If you choose to go with a different car seat, the following infant car seats are compatible with the Z4 with a separate purchase of adapters.
Cybex Aton and Cloud Q infant car seats
Clek Liing infant car seat
Maxi-Cosi infant car seats
Nuna Pipa series infant car seats.
The companion seat is identical in size and capacity to the toddler seat making it a true twin stroller if needed. Explore full size strollers that has similar capabilities and around the same price range, like UPPAbaby Vista V2, Silver Cross Coast stroller, and Baby Jogger City Select series. However, Agio Z4 is lighter, more narrow, and the longest warranty period (5-years) than the competitors mentioned above, making Agio Z4 the preferred choice for many parents looking for a versatility, quality and reliability.
Let's get into the details! Agio Z4 is made-in-Italy and is narrow enough to fit through the smallest doorways at 20 inches wide. Weighing in at 22 lbs, Z4 is considered a lightweight full size stroller to make strolling, storing, and maneuvering easier for parents. An adjustable telescopic handle is equipped with hand sewn leather details. You'll find a peek-a-boo window on the canopy with a zipper to provide extra, extended weather protection for your little one. The canopy hood is also height adjustable so if your little one is outgrowing their peers, Agio Z4 will be able to accommodate! Z4 toddler seat is reversible, has 3 different recline positions, with an integrated footrest. The stroller folds easily with the seat intact. These are all leading factors that make the premium Agio Z4 stroller a solid full size stroller that can be turned into a double stroller.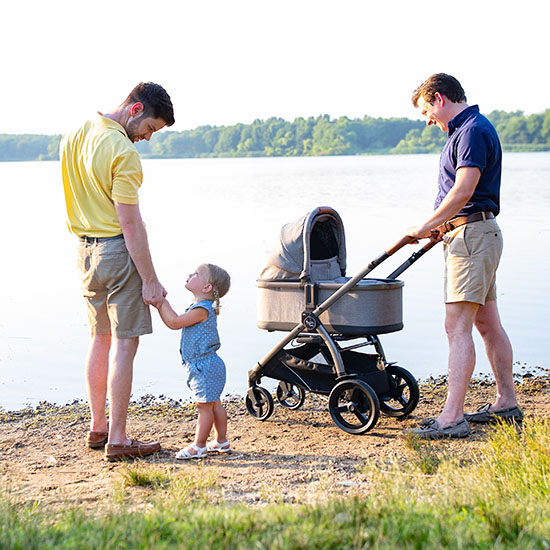 You can purchase the Agio Z4 Stroller, Agio Z4 Travel System with Peg Perego Primo Viaggio 4-35 Nido Infant Car Seat, and Agio and Peg Perego accessories. If you have any questions regarding the Peg Perego's Agio Z4 Travel System, send us an email at customerservice@kidslandusa.com