Posted by merlyn@kidslandusa.com BigCommerce on Aug 25th 2022
Meet the most-comfortable booster!
The makers of the ultra portable and fastest selling Pop-Up Booster, Bombol, have launched a new product to their lineup! Introducing, the Bamboo 3Dknit Bouncer – the comfiest bouncer ever.
If you're an expectant mom, you absolutely need to look into adding a bouncer to your Baby Registry. We all need to shower, grab a meal, or basic household chores but the question remains… Where will the baby go? Eventually, you'll need to put your precious little one down. A safe and reliable bouncer provides the optimal space and structure for your baby to hang out while giving parents a chance to get stuff done around the house while keeping an eye on the baby.
Now let's talk about all the way Bombol Bouncer is comfy:
One piece knit fabric hugs your newborn like a hammock with no seams but sags in the right places.
Fabric is mesh knitted for breathability and air flow.
Dynamic backrest allows the baby to choose its own angle using their weight and strength like an ergonomic chair.
Parent lock on the backrest so you can choose the perfect angle when baby sleeps.
Bounces with baby's movement and gravity.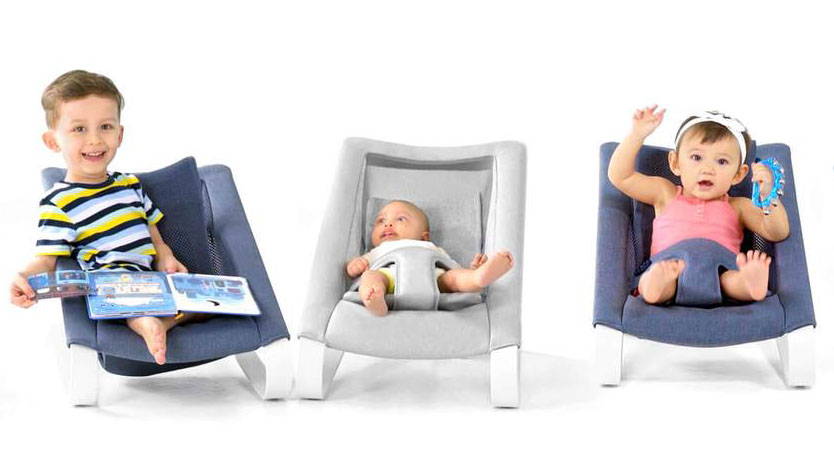 The Bamboo 3D Knit Bouncer main features:
Certified from newborn to 5yrs (about 100kg)
Engineered 3D knit backrest for breathability and strength
Self-adjusting with the dynamic backrest for the child to choose his own angle
Backrest lock so parents can determine position
Bounces with child's movement and gravity (of course)
Aerospace grade aluminum on frame for strength and feather weight
Super Compact fold- 28.5in x 16.5in x 6.7in

Most bouncers have a short life span and are only suitable to be used for the first few months. Bombol went to extreme lengths to make it suitable from birth to 5 years old for long term use. Think of it as a piece of furniture.Why not get more bang for your buck?
As a mom, the safety of my baby is my highest priority and for the Bamboo 3D Knit Bouncer to pass both standards, gives me reassurance that I can safely lay my baby down for moments throughout the day.
The Bamboo 3D Knit Bouncer is currently available at Kidslandusa.com for $299.00 with free shipping.