Posted by Lisa on Aug 18th 2021
As the two most popular Nuna strollers, the Nuna TRIV and Nuna MIXX Next are distinct in their appeal to new parents. MIXX Next is the typical choice for users seeking high-suspension and all-terrain mechanics. The TRIV user appreciates the smooth ride and compact storage features of this stroller. Both are considered newborn strollers and can be used with the PIPA car seat as a Travel System.
So what are the differences between the 2021 TRIV and 2021 MIXX Next strollers? Below are the major differences or check out the comparison chart here.
Size: Overall, TRIV is a faction of the size of MIXX Next while carrying the same usage stats.
Weight: TRIV is less than 20lbs, while MIXX Next weighs 28lbs.
Price: TRIV is $100 less than MIXX Next.
Wheels: MIXX has bigger wheels made for both smooth and uneven terrain.
Height: MIXX is about 2 inches taller than TRIV when folded and opened.
NUNA MIXX NEXT STROLLER
The MIXX Next stroller has dominated as Nuna's best-selling stroller for many years. The superior maneuverability and high-grade all wheel suspension of the MIXX makes this the most favored stroller for both the off-roading family and the city dwellers.
Similar to the TRIV, the Nuna MIXX Next has a simple fold with a reversible seat. Features like a five-position recline, the new magnetic harness buckle, adjustable handlebar and ventilated seat back for added comfort for both parents and child. The included infant car seat adapter helps make the MIXX stroller into the perfect travel system from birth, seamlessly pairing to any of the PIPAs.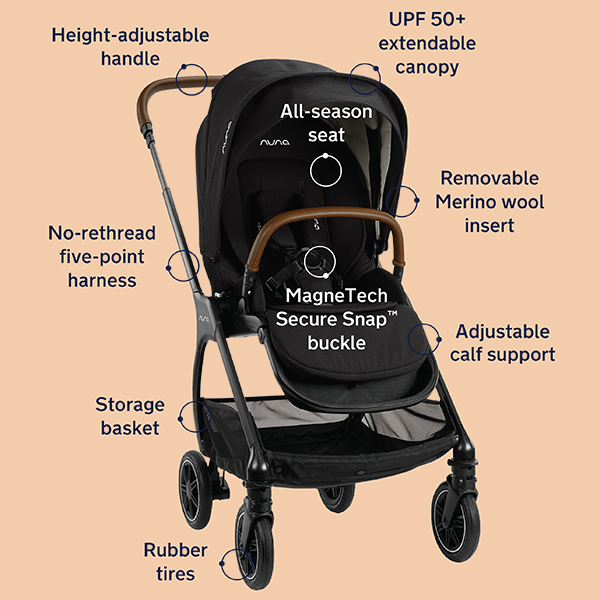 NUNA TRIV STROLLER
The TRIV was relaunched in August of 2021 with a few enhancements. It remains as Nuna's most compact standard size stroller, weighing less than 20 pounds, but now features a magnetic harness buckle, improved suspension, and a bassinet option (sold separately).
The TRIV is best known for the one-hand fold and relative light weight. The seat is reversible and offers three recline positions including a near-flat position for naps. The included car seat adapter folds with the frame. Other comfort features like an adjustable footrest and handlebar and a breathable merino wool insert that can be removed to reveal a breathable mesh seat back, making this our favorite all around stroller.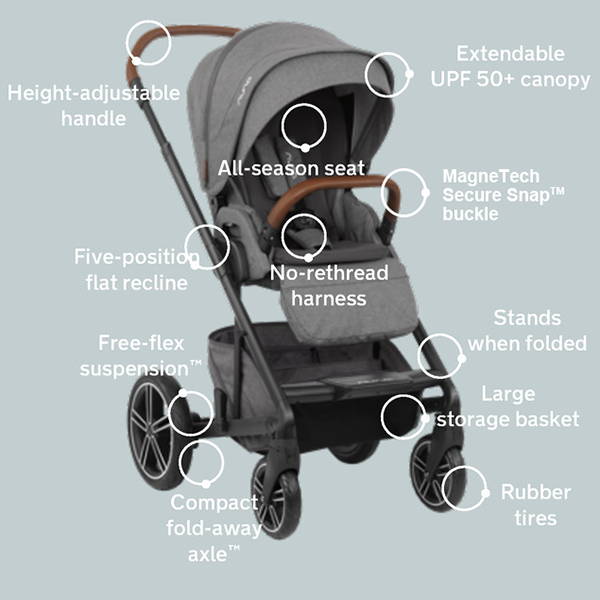 COMPARE THE NUNA TRIV VS. MIXX NEXT 2021
MIXX NEXT $799.95
TRIV $699.95

Folded (with seat) dimensions L x W x H (inches)

Height adjustable pushbar

Yes + Rear-wheel Free Flex suspension

UPF 50+ water repellant canopy

Extendable + ventilation panel

2 compartment basket + zipper pocket; cell phone pocket

1 compartment basket; cell phone pocket

Compact fold-away axle; folds with or without seat

One hand, compact fold; folds with or without seat

Infant car seat ring adapter

Infant car seat ring adapter; Rain cover

Accessories sold separately

PIPA series infant car seat; Bassinet; Stand; Cup holder;

Child's tray; Rain cover; Wheeled travel bag

PIPAT series infant car seat; Bassinet; Wheeled travel bag
Are you still wondering which Nuna Stroller is best for you? Ultimately, only you can decide which is best for you. Nuna strollers and car seats are known for high quality and unparalleled safety features so you can't go wrong with whichever you choose. Give us a call if you have any questions or shop www.kidslandusa.com for free shipping!